M A T S U BA R A C H I E K O
---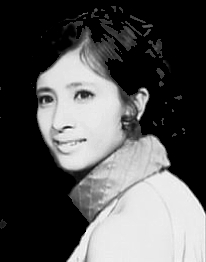 Name: Matsubara Chieko
Born: January 6, 1945
Birthplace: Gifu, Japan
Key Nikkatsu films: Kanto Mushuku (1963),
Tokyo Nagaremono (1966),
Ore ni Sawaru to Abunaize (1966),
Burai Yori Daikanbu (1968).






One of the most talented, and attractive, actresses to ever grace Japanese movie screens was Matsubara Chieko. Out of the teeming sea of starlets Nikkatsu had under contract in the 1960's, Chieko swam in the small school that could act and perform as good (or better) than they looked.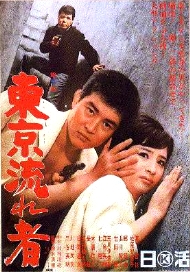 This led to her becoming a frequently cast, consistently popular Nikkatsu star.
In the late 50's and early 60's, when Nikkatsu was King, they often held beauty, or talent, contests to help promote their features. One such promotional campaign was held in 1960 to hype their hit, "Miss 16" (starring the beautiful Asaoka Ruriko). The top prize for the lucky winner of this contest was a screen test at Nikkatsu Studios. Matsubara Chieko was among the hopefuls. Whether she was the winnning contestant, or not, is arguable--some sources say she was, others say she was not. What cannot be disputed, however, is that as a result of this contest, she was recruited by Nikkatsu.
Chieko had appeared in one film before signing with Nikkatsu--the 1960, Fuji Films produced "Hadaka no Tanima" ("Naked Valley")--however, most sources claim her screen debut to be Nikkatsu's 1961 youth-drama/romance, "Asu ni Mukatte Tsuppashire" ("Run for Tomorrow"). Her premeire Nikkatsu film did great business and Matsubara performed well. Her success was almost instantaneous! Within months of the film's release, Chieko's image began gracing numerous Japanese magazine covers, a trend that did not reverse itself until the early 1970's. The press (at Nikkatsu's urging of course) started referring to Matsubara, along with Yoshinaga Sayuri, and Izumi Masako as Japan's (not to mention Nikkatsu's) "Three Beauties". In one swift fingersnap, Matsubara Chieko became one of the most popular figures in the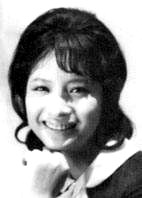 nation. To everyone, male and female alike, she came to represent the ideal "Modern Girl" of the 60's.

Although excelling in romantic films, Chieko proved to be a terrific performer in all Nikkatsu genres. At a time when typecasting was the rule, she took great care to (as much as possible) never play the same character the same way twice.

Matsubara Chieko's seemingly natural adaptability made her the perfect partner for many of Nikkatsu's men of action. She was often paired with "Mr. Dynamite", Kobayashi Akira. Among the most notable of these pairings were Suzuki Seijun's marvellous "Kanto Mushuku" ("Kanto Wanderer"), and Hasebe Yasuharu's swinging "Ore ni Sawaru to Abunaize" (U.S. video title: "Black Tight Killers"). Both of these films--though entirely different in style and theme--are excellent examples of popular Japanese cinema of the 1960's.

Another Nikkatsu Aciton man Chieko frequently found herself starring opposite, with outstanding results, was Watari Tetsuya. Visually, and dramatically, these two were a knock-out couple! The pair were ideal in Suzuki Seijun's 1966 classic, "Tokyo Nagaremono" ("Tokyo Drifter"). In this brilliant, eye-poppong film, Chieko stars as the glamorous, torch-singing girlfriend of the put-upon, wandering, gangster played by Tetsuya.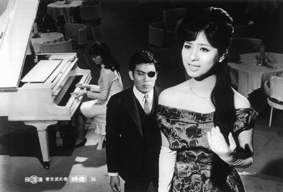 With this film, Chieko was able to highlight her considerable musical talent as well as present a more sophisticated image than Nikkatsu usually allowed for her. "Tokyo Nagaremono" is probably Watari and Matsubara's best known film outside of Japan. However, inside Japan, it is overshadowed by the immense popularity of the "Dai Kanbu" series. Beginning in 1968 with Masuda Toshio's excellent, "Burai Yori Daikanbu" ("Villany of the Gang"), Watari and Matsubara kept audiences emotionally attached to their characters in several installments.

After appearing in 100 films for Nikkatsu, Matsubara Chieko abruptly resigned from the company in the early 1970's. As with most of the stars of the classic Nikkatsu Aciton era, she quit largely due to the studio's transition into the hyper-production of "Pink Eiga". Having started appearing on television in the late 60's, she remained active in that medium for a few years. But, after marrying a journalist in 1972 she began to appear less and less, shunning the limelight.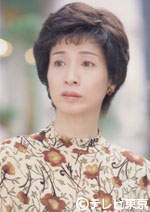 Since then, Matsubara Chieko has only appeared in 10 films. She made an unexpected return to Nikkatsu in the 90's to appear in a romantic drama. Most recently, she appeared in "Murdeka 17805", a 2001 film about the Indonesian Independence movement just after World War II.
Though she keeps a low profile these days, in the hearts and minds of Nikkatsu Action fans, Matsubara Chieko will always be a high profile, loveable, vision of feminine charm. For me, she will forever be the epitome of the the swinging sixties suke!
Profile by Chris Casey for Yaju no Yabai Gumi. 2001.
With great help from Tatsuya Fukushima.
---