T A K A H A S H I H I D E K I
---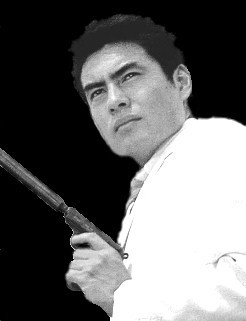 Name: Takahashi Hideki
Born: February 10, 1944
Birthplace: Chiba, Japan
Key Nikkatsu films: Otoko no Monsho (1963),
Oretachi no Chi Ga Yurusanai (1964),
Irezumi Ichidai (1965), Kenka Ereji (1966).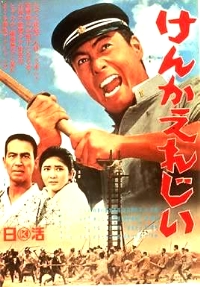 Takahashi Hideki might best be described as the handsome, affable, slightly introverted, younger prince to the Kings of Nikkatsu Action. His popularity, during Nikkatsu's action heyday, never reached the consistent peaks enjoyed by other stars of the studio (i.e, Ishihara Yujiro, Kobayashi Akira, or Akagi Keiichiro); however, dramatically, he more than held his own and, whether by luck or design, he managed to appear in some of the finest films Nikkatsu ever produced--thus, assuring him a properly royal place in Nikkatsu Action history as well as a solid (if small) fan following.
In 1961, while still attending High School, young Hideki responded to one of Nikkatsu's many nationwide calls for New Faces. The Nikkatsu talent scouts were suitably impressed with the youngster. He was handsome in a wholesome way, sharp-minded, musically inclined, and--most importantly--he had the unusually unique ability to project humility and regality at the same time. He was swiftly recruited as one of Nikkatsu's Fifth Group Nikkatsu New Faces and made his screen debut in 1961's "Kogenji".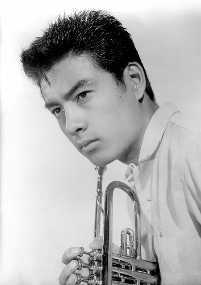 Though well on his way to a steady career in films, Takahashi felt the need to improve himself, both as an actor and an intellectual. He enrolled at Nihon University where he majored in Performing Arts. He did very well at the University, recieving frequent commendations for exceptional performances in drama, comedy, and music, as well as academics. Hideki easily transferred his University achievements to the characters he portrayed on the big screen. Though he essayed a variety of roles throughout his Nikkatsu career, he most frequently appeared as an ordinary "college boy" who, thrust into a dangerous world of extraordinary circumstances and daunting difficulties, would eventually triumph. A not so obvious extension of this type of character would prove to be Takahashi Hideki's claim to fame.
In the early 60's, Japanese movie audiences were flocking to see a variation of the popular yakuza genre, called ninkyo eiga (chivalry films). Typically, these films (mostly produced by studios such as Toei, Toho, and others) were set at the turn-of-the-century and dealt with the main protagonist's difficulties in adhering to his samurai-like code of Giri (roughly, "honor-bound duty") in the face of an increasingly honorless and rapidly shifting world. The sentiment of these pictures struck a meaningful chord with the masses and box-office was booming. Not to be outdone by their competition, Nikkatsu began producing ninkyo eiga of their own.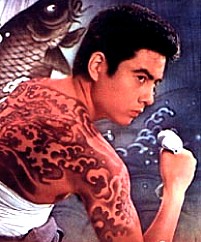 In 1963, Takahashi Hideki was lucky enough to be assigned to star in what would prove to be one of the genre's greatest examples, Matsuo Akinori's excellent yakuza drama, "Otoko no Monsho" ("Emblem of a Man"). Takahashi's role in this film seemed, and could well have been, tailor-made for him.
In "Otoko no Monsho", Hideki plays the son of a tough, well-respected Oyabun (father of a Yakuza family). But, this Oyabun's son is different than most. In an effort to rise out and above his upbringing in the Underworld, has gone to college and become Doctor. However, events transpire to make his path to humane respectability impassable. [ "Just when I thought I was out...they pull me back in!"] This film has been compared frequently to Francis Coppola's much later "The Godfather", and the comparison is an excellent one. Takahashi's character shares much with Pacino's Michael, and both films benefit from a heavily emotional, operatic mood. Nikkatsu had a bona fide hit on their hands, and Hideki had found his niche.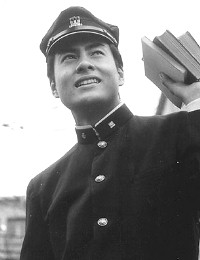 Throughout the 1960's Takahashi would appear in many other ninkyo films with mostly grand results. One particularly excellent example being Suzuki Seijun's stupendous 1965 effort "Irezumi Ichidai" ("One Generation of Tattoos" a.k.a "Tattooed Life"), which is a flamboyantly executed motion picture on all counts. Hideki had worked with Suzuki-sensei one year before in the entertaining modern gangster outting, "Oretachi no chi ga Yurusanai" ("Our Blood Will Not Allow It" a.k.a. "Our Blood Does Not Forgive"), and he would go on to work with him again in another piece of Seijun-style, cinema brilliance, the 1966 release, "Kenka Erejii" ("Fighting Elegy").
Takahashi Hideki carried on with Nikkatsu, appearing in a total of 88 features (including romantic dramas, comedies, modern action, and yakuza productions) until he left the studio in 1971.
Since his Nikkatsu days, Takahashi has remained a popular entertainment figure. In fact, in many ways, his popularity has never diminished, which sets him apart from many of his Nikkatsu contemporaries. He has remained highly active in television, appearing in a variety of programs. His most notable achievements on the small screen have been in a number of popular Samurai shows, such as "Momotaro Samurai", "Edo no Yojimbo", and "Toyama no Kin san" (in this series Takahashi was the second lead behind its popular star, and Hideki's former Nikkatsu brother, Sugi Ryotaro).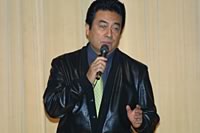 Still going strong today, Takahashi is the host of a TV game show as well as a popular music program. As most of Nikkatsu's Action Kings have disappeared from sight, "The Prince" Hideki is, and looks to remain, a very visible member of Japan's entertainment royalty for many more years to come!
Profile by Chris Casey for Yaju no Yabai Gumi. 2001.
Special thanks to Tatsuya Fukushima for his invaluable
assistance with, not only this, but all the profiles on this website!
---