A K A G I K E I I C H I R O
---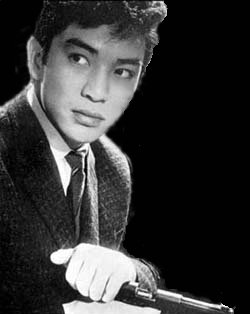 Name: Akagi Keiichiro
Real name: Akatsuka Chikahiro
Nickname: Tony
Born: May 8, 1939
Birthplace: Tokyo, Japan
Died: February 21, 1961
Key Nikkatsu films: Kenju Zero Go (1959),
Suppadaka no Nenrei (1959),
Kenju Buraicho: Nukiuchi no Ryu (1959/1960),
Kurenai no Kenju (1961).
In the wild, swinging days of the Nikkatsu Action boom, there were three heavy box office hitters that just couldn't be topped. "The King", Ishihara Yujiro, followed by "Mr. Dynamite", Kobayashi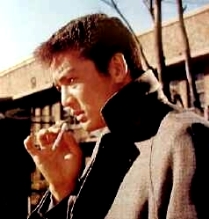 Akira--and Akagi Keiichiro, "The Third Man". Though ranked third (mostly out of respect for his elder, studio "brothers"), Keiichiro's popularity with audiences easily rivaled--and often exceeded-- that of his esteemed colleagues. Like Ishihara, Akagi was the embodiment of youthful restlessness, only to a darker degree. The characters Akagi formed were frequently edgier than those usually played by Ishihara. Brooding, eyes full of smoldering passion, yet still maintaining his boy-next-door appeal, Akagi was often called "the Japanese James Dean". This tag would prove to be fitting, sadly, in more ways than one.
Born Akatsuka Chikahiro in Tokyo, Akagi and his family moved to Shonan, during World War II, to avoid air attacks, eventually settling in Hayama. His childhood was largely a pleasant affair, though it was sometimes punctuated by hardships typical for most Japanese families during the postwar years.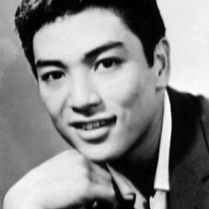 In 1958, after a failed attempt to join the Merchant Marines, young Akatsuka Chikahiro entered Seijo Gakuen University. During his Freshman year, Nikkatsu held yet another of their nationwide, new talent searches, resulting in his being selected as one of the "Fourth Group of Nikkatsu New Faces". For the future Akagi Keiichiro, this meant college was nowhere and the cinematic school of Nikkatsu Studios was the place to be!
Within a month after leaving the University, Akatsuka made his screen debut, as an uncredited extra, in Nishikawa Katsumi's "Asu o Kakeru Otoko" ("The Man Who Dares Tomorrow"). Rapidly following this, he appeared, credited under his real name, in Inoue Umetsugu's "Arashi o Yobu Yujo" ("Storming Brotherhood").
On March 18, 1959 another film by director Inoue Umetsugu hit the theatres. This film, "Gunshu no Naka no Taiyo" ("Sun in the Crowd"), was the first to list Chikahiro as Akagi Keiichiro, a name given to him by Inoue.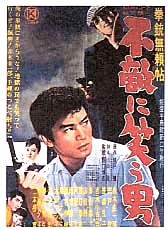 The following month, "the rookie", Akagi Keiichiro, smashed onto cinema screens in Yamazaki Tokujiro's "Kenju Zero Go" ("Pistol # 0"). The audience's positive reaction to Akagi in this motion picture prompted Nikkatsu to give him his first major role in Suzuki Seijun's, "Suppadaka no Nenrei" ("The Naked Age"), released in September of 1959. Later that same month, Keiichiro costarred with Ishihara Yujiro in "Shimizu no Abarembo" ("Roughnecks from Shimizu"). In this film, directed by Matsuo Akinori, Akagi tore up the screen--completely upstaging Yujiro!
Akagi Keiichiro was becoming a star of the first and brightest magnitude. With the release of his first color film, Noguchi Hiroshi's knock-out "Kenju Buraicho: Nukiuchi no Ryu" ("Gunslinger's Tale: Quick Draw Ryu"), he firmly established his position as Nikkatsu's "Third Man" of the Action Trinity. Costarring the ever-great Shishido Jo, this tense, action drama--about recovering junkie, and ace gunman, Ryu's battle with a twisted crime syndicate--was a powerful success. [There has been some confusion as to the actual release date of this film. Most sources list it as being released in December of 1959, others have it as February 1960.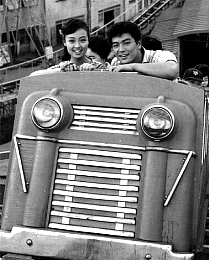 Both dates are correct. The film was originally released in late '59 and rereleased, by popular demand, in early 1960.]
After that, the Akagi Keiichiro films came fast and furious! In keeping with their "get 'em while they're hot!" modus operandi, Nikkatsu produced and released 11 Akagi Keiichiro films in 1960--many of which are among the best genre films of the period, and all of them were top box office attractions. Among these were several brilliant follow-ups to "Kenju Buraicho..", resulting in the team of "Tony" and "Ace no Jo" becoming one of the most popular of the day.
In February 1961, Akagi starred in another flashy, gunman film, "Kurenai no Kenju" ("Crimson Pistol"), directed by Ushihara Yoichi. This pulse-pounding, gun-action, thriller would prove to be the last film Akagi completed. On February 14, 1961, only 3 days after the successful release of "Kurenai no Kenju", Akagi was test-driving a go-cart on a Nikkatsu backlot when it spun out of control and crashed into a steel door. Akagi was immediately taken to the emergency room of the Jikei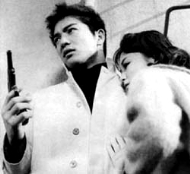 University Medical School Hospital. For several days the best doctors struggled to save the young star's life, but he eventually succumbed to an Intracranial Hemorrhage at 7:50 a.m. on February 21. Akagi Keiichiro was only 21 years old.
His tragic death at so young an age, like James Dean before him and Bruce Lee after, only served to make him dearer in the hearts of his fans. His popularity has only intensified posthumously, making Akagi Keiichiro a forever young icon to millions.
Profile by Chris Casey for Yaju no Yabai Gumi.2001.
With the deepest thanks to Tatsuya Fukushima!
---