I S H I H A R A Y U J I R O
---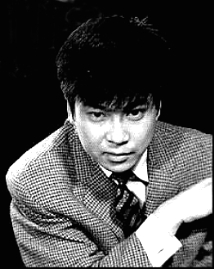 Name: Ishihara Yujiro
Born: December 28, 1934
Birthplace: Otaru, Hokkaido, Japan
Died: July 17, 1987
Key Nikkatsu Films: Taiyo no Kietsu (1956),
Arashi o Yobu Otoko (1958),
Akai Hatoba (1958), Shimizu no Abarenbo (1959),
Tekkaba no Kaze (1960).
In Japan's cinematic realm of the late 1950's and early 1960's, Ishihara Yujiro was The King! Out of literally billions of movie tickets sold at that time, well over half were to features produced by Nikkatsu the bulk of which starred Yujiro. More than just a popular screen idol, Ishihara made an incredibly powerful impact on Japanese popular culture. He became an icon to and for the modern-minded, rebelious, youth of that tumultuous period; a sort of Japanese amalgamation of Elvis Presely, Marlon Brando, and James Dean.

The Elvis comparison is largely right on the money. Both men personified youthful rebellion in the early stages of their fame and both became its antithesis in their later years. Yujiro and Elvis were both successful at melding their singing and acting careers (though, in my opinion, Yujiro far outclassed Elvis' often, arugably, underrated acting ability). And, sadly, both men died prematurely from gleeful over-indulgence.

Yet, for all these similarities, Ishihara Yujiro was quite a different breed. Unlike Elvis, Yujiro came from a fairly wealthy family. He and his brother, writer and politican, Ishihara Shintaro, were the sons of a senior shipping executive. Shintaro graduated from Hitotsubashi University with the strong desire to be a novelist. Yujiro graduated from Keio with the dream of becoming an actor. Fortune smiled on both of the lads.

Shintaro wrote a bestselling novel, "Taiyo no Kisetsu" ("Seasons in the Sun"), and Yujiro was chosen to star in the film version. The novel and the film became the "first chronicling" of the Taiyo Zoku (Sun Tribe), a term derived, by the media, to describe the then prominent "new wave" of discontented Japanese youth. If the media were to be believed, Japan (just ike the US at the time) was being "invaded" by wild, beatnik, teenagers who shocked their elders with their apparent lack of morals and live-fast-die-young attitudes! The role of just such a "youth in orbit" fit Ishihara Yujiro like a sheath for a sword. Nikkatsu's film slashed all previous box office records and shot its star to the top!

Thanks to this success, Nikkatsu began cranking out scads of popular films starring Ishihara Yujiro as a romanticized, rebellious, brutal, yet caring, tough guy. The sheer magnitude in volume of Ishihara films produced by Nikkatsu at that time (often in excess of six films per year!) would lead one to suspect that many of the flicks fall into the Grade B (or worse) category. However, these early films are surprisingly, by and large, of an extremely high quality. Ask a true Ishihara Yujiro fan what their favorite Yujiro film is and you are likely to get a different answer from each one; but, whichever film they select it is bound to have been made between the years of 1956 and 1962.

In 1958, Nikkatsu released the two films which, to this humble scribe, show Ishihara at his best. The first being Inoue Umetsugu's brilliant "Arashi o Yobu Otoko" ("A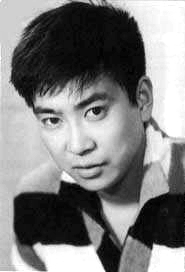 Storming Drummer" or "Man Who Causes a Storm") a flashy film about a young drummer and his attempts to juggle and overcome his complex family life, burgeoning musical career, and dangerous run-ins with the yakuza. This well mounted movie, shot in glorious Nikkatsu Color, is--from a dramatic aspect--a bit like Elvis' "Jailhouse Rock" in overdrive. The second strong release from '58 is Masuda Toshio's knock-out Noir, "Akai Hatoba" ("Crimson Seaport"), which tells the tense tale of a ruthless, urban gunslinger named Jiro as he runs afoul of his own mob, thanks to his severe sense of jingi (honor) and his unfortunate (from the perspective of a killer) capacity for falling in love. Yujiro's natural knack for projecting the animal smoldering beneath his cool surface, and Masuda's excellent lighting, framing, and pacing, mesh well to make this an excellent example of Nikkatsu Action. Interestingly, both of these films were later remade by Nikkatsu (with Masuda directing the remake of his own film) as vehicles to promote Watari Tetsuya as "the new Ishihara Yujiro"!

The female lead for both "Arashi o Yobu Otoko" and "Akai Hatoba", Kitahara Mie, became Mrs. Ishihara Yujiro on December 2, 1960. But, marriage didn't seem to slow Yujiro down or kill his flamboyant taste for high living.

As Ishihara and his fans grew older his persona altered and his career hit a troubled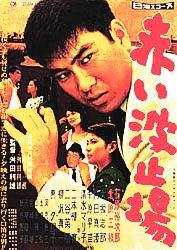 path of peaks and valleys. He began seeking new ways to entertain, not only his fans, but himself. His searching led him into appearing in a Hollywood film, "Those Magnificent Men in Their Flying Machines"; but, his success there was minimal, at best. His aforementioned taste for high living led to health problems over the years, and the increasingly corpulent Ishihara found it harder to be convincing as a Nikkatsu Action tough guy. In the very late 1960's Yujiro decided to split away from Nikkatsu and form his own production company, Ishihara Productions. He felt the only true way to break away from his action man image was to leave the studio which had given birth to it. His move coincided with the decision of Nikkatsu to move more into the production of soft-core porn films (known as "Pink" eiga or "Roman Porn") and many of his former colleagues and friends joined him in his new venture.

The films produced by Ishihara Productions, though often popular, never reached the dizzying success of his Nikkatsu output, nor did any films he appeared in for other companies. But, Yujiro didn't seem to care much. He seemed bored with acting. Instead he went deeper into his singing career, becoming renowned for his soul-stirring Enka ballads. He also began devoting more time to what many claim was his greatest passion, sailing.

In the 1970's Yujiro, after much deliberation, decided to appear on TV. He produced and
starred in the popular cop action/dramas, "Seibu Keisatsu" ("Western Cops"), and "Dai Tokai" (both of which featured his protege, Watari Tetsuya), and he also starred with the then newcomer Matsuda Yusaku in "Taiyo ni Hoero" ("Howl at the Sun"). Things, apart from a few scandals here and there, were still going well for the King. Finally, in 1987, all the wild years of fast living caught up with Ishihara Yujiro. He lost a long fought battle with liver cancer and died at the age of 52.

In July 1991, the Ishihara Yujiro Memorial Museum was opened in his Hokkaido hometown, showing his films and TV shows to a steady stream of visitors.

On July 3, 1999 an amazing and incredibly touching memorial service was held at Sojiji Temple in Yokohama. An unprecedented 170,000 fans brought flowers and other offerings to honor Yujiro's memory--a staggering testament to his enduring popularity. It was the thirteenth year after his death, a very important and significant year for Buddhists. For this special occassion each memorial service attendee was given a bottle of Ishihara's favorite wine as a gesture of respect. The fans were there to mourn the passing of an era, as well as to bid farewell to The King!





Profile by Chris Casey for Yaju no Yabai Gumi.2001.



---