M A R I A N N U
---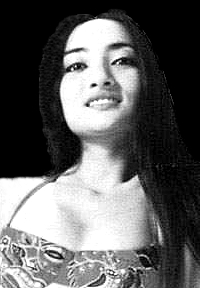 Name: Mari Annu
Born: May 20, 1948
Birthplace: Tokyo, Japan*
Key Nikkatsu Films: Koroshi no Rakuin(1967),
Shichi-nin no Yaju(1967), Kangoku e no Shotai (1967),
The Spiders no Dai Shingeki (1968).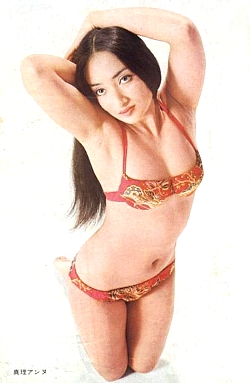 Though she only made a tiny handful of films during the late 1960's and early 1970's, the exotic beauty, Mari Annu, managed to make an indelible and startling impression on fans of Nikkatsu Action Eiga by appearing in Suzuki Seijun's legendary masterwork, "Koroshi no Rakuin" ("Branded to Kill"). In this film she portrays Misako, the uniquely attractive, and bizarrely fatalistic, object of star Shishido Jo's dangerous obsession. "Koroshi no Rakuin" is rife with memorable moments, and many involve Mari Annu's eerie, unearthly performance (heightened by Suzuki-sensei's brilliant framing and composition). She is, like the film itself, unforgettable once seen.
Born to an Indian father and a Japanese mother in 1948, she was only 19 when she achieved stardom in Suzuki Seijun's final Nikkatsu production. Though some sources claim she was a "totally new Suzuki discovery" in 1967, the facts indicate she began her film career (uncredited) in the 1964 Toho production, "Jitensha Dorobo" ("Bicycle Theft"). She soon followed this with a more substantial (credited) role in Shochiku's 1965 hit, "Hadaka no Seishun" ("Naked Youth"). It isn't clear if seeing her in this film was what led Suzuki to cast Mari Annu in "Koroshi no Rakuin", thus securing her a contract with Nikkatsu; or, if Nikkatsu's talent scouts spotted her first, recruited her, then recommended her to Seijun. Both stories have circulated and either one is wholly plausible.
Almost immediately after "Koroshi no Rakuin",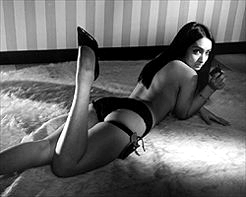 Mari appeared with Tamba Tetsuro and Shishido Jo (once again) in Ezaki Mio's box-office smash, "Shichi-nin no Yaju" ("Seven Beasts", a.k.a. "The Filthy Seven"). During the production of this film Ezaki was quoted as saying that he perceived a great future for Mari Annu in films, as he felt she was "very photogenic", "fearless", "tough", and "highly professional". True to form, Nikkatsu cranked out an instant (and, in this case, highly inferior) sequel to "Shichi-nin no Yaju" within 28 days of the first film's release; however, Mari was unable to take part in this film as she had already been cast in the intense drama, "Kangoku e no Shotai" ("Invitation to Jail"). One year later she appeared as a mini-skirtted "mod chic" alongside the popular Beatle-ish GS ("group sound") rock group, The Spiders, in a lightweight music-fest called, "The Spiders no Dai Shingeki" ("The Spiders on Parade").
As Nikkatsu headed, full throttle, into the mass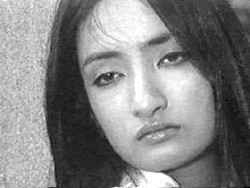 production of "Pink Eiga" in early 1970, many of their stars (especially those signed before 1969) broke their contracts and left the studio. However, the gutsy, challenge-seeking Mari Annu carried on working in any film they deemed fit to put her in (including "Roman Porn" projects), until her Nikkatsu contract expired later that year.

After leaving Nikkatsu, Mari appeared in Toei's 1972 film, "Furyo Bancho: Ichimou Dajin". This late entry in Toei's most wildly off-beat bosozoku (delinquent gang) series, was Annu's final theatrical film.

She quickly, and successfully turned her talents towards televsion. On the small screen, Mari Annu worked in a variety of popular programs, including the "Ultraman" and "Kamen Rider" series (ever the tough chic, she frequently performed her own stunts in these super-hero shows!). She also became a popular host of late night talk shows, and as a TV personality, she is still active today. Mari Annu has lately achieved further success as the author of books on health and beauty secrets as well as Indian cooking.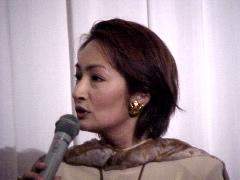 Recently, she has attended several Suzuki Seijun-related public events. In February 2001, she was on hand, to pay her respects, at the press conference held to announce the produciton of Suzuki-sensei's highly anticipated return to "action" eiga, "Koroshi no Rakuin: Pistol Opera". She also appeared, on stage with Suzuki himself, at the gala opening of the Style to Kill film festival in Tokyo, and she was the guest of honor at the closing of the same festival.
Seeing her in the press photos taken during these recent events, I must admit that I was stunned. She is still strikingly attractive, exotically beautiful, beguiling, and undeniably unforgettable!
Profile by the Misako-haunted Chris Casey for Yaju no Yabai Gumi. 2001.
* Some sources give Mari Annu's place of birth as Hyogo, Japan. However, I have opted to go with the more frequently quoted location of Tokyo.
---