N I T A N I H I D E A K I
---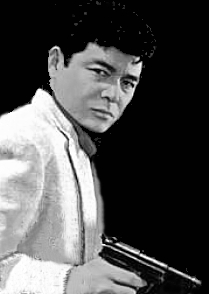 Name: Nitani Hideaki
Born: January 28, 1930
Birthplace: Kyoto, Japan
Key Nikkatsu films: Sugata naki Tsuiseki-sha (1962),
Kenju Zankoku Monogatari (1964),
Tokyo Nagaremono (1966),
Minagoroshi no Kenju (1967).
The world of Nikkatsu Action was populated by good-hearted, tough guys, and preeminent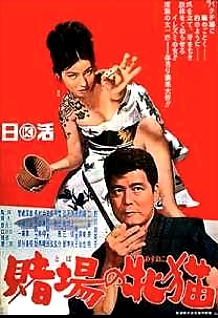 among them stood the magnificent Nitani Hideaki. Often relegated to playing bit parts or second leads, Nitani's rivetting presence on screen frequently made him appear equal to the stars he was backing up (if not a cool head and square shoulders above them!). No matter if he was playing the worse-than-evil villain, the honorable friend of the hero, or the hard-as-nails lead, audiences relished his frequent appearances. Nitani was, and remains, one of the most consistently entertaining performers in the history of Japanese cinema!
A fluent speaker of English, Nitani Hideaki was admitted to the English Department of Doshisha University, one of Japan's most reputable private schools (character actor, Tamura Takahiro, was among his classmates). Being a very swift and intelligent fellow, Nitani soon became dissatisfied with the boring routines of college life; so, he withdrew in 1952 to seek more stimulating experiences. After a series of part-time jobs as an interpreter, Nitani was hired by Nagasaki Broadcasting Corporation and stationed in Sasebo, home to a large U.S. naval base at the time. The thrill-seeking Nitani had high hopes of becoming an action reporter--working the exciting beat of the mean streets; however, he was assigned to be a studio-bound newscaster. While he enjoyed having a stable job, the youthful, restless Nitani found himself constantly looking for new adventures and career directions.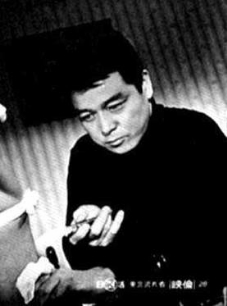 Nitani's big breakthrough came when his friends suggested he should audition to beome a part of the Third Group of Nikkatsu New Faces. Without hesitation, Nitani applied, auditioned, and was hired by Nikkatsu in June 1956. It was a brilliant move for all concerned.
Nitani made his screen debut in the 1956 "Okinawa no Tami" ("People in Okinawa"), and quickly won a major role in his second film "Ukikusa no Yado" ("A Wanderer's Inn") the following year. At the height of the popularity of Nikkatsu's Diamond Line of Tough Guys (featuring Ishihara Yujiro, Kobayashi Akira, and Akagi Keiichiro) Nitani stood out by often portraying an unobtrusive and introspective character, adding a new dimension to Nikkatsu films full of individualistic figures. By 1960, Nitani Hideaki was one of the busiest Nikkatsu stars, both as a film actor and as chair of the Japan Film Actors Association. In 1961, Nitani demonstrated his amazing versatility by appearing, with great success, in the "Yojimbo Kagyo" ("Bodyguard Business") series of action comedies, also starring Shishido "Ace no" Jo.
In March 1961, Nikkatsu was suffering some major setbacks. Akagi Keiichiro's sudden, tragic death had been a sorrowful blow. Their top boxoffice draw, Ishihara Yujiro, had been seriously injured during a produciton and was to be, apparently, out of commission indefinitely. In an effort to boost studio morale, as well as ticket sales,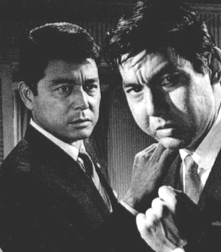 the film company quickly formed and promoted their New Nikkatsu Diamond Trio with Kobayashi "Mr. Dynamite" Akira, Shishido "Ace no Jo", and Nitani Hideaki, with the nickname "Mr. Dump Truck". The new team went over very well with the filmgoing, and Nikkatsu Action-crazed, public. Along with his professional success, Nitani relished happiness in his private life, as well, by marrying actress Shirakawa Yumi. Unlike many celebrity marriages, Nitani and Shirakawa's has been stable ever since.
Nitani Hideaki appeared in many of the classic films that helped to define Nikkatsu Action cinema. There is no doubt that the impact of many brilliant films--among them Suzuki Seijun's "Tokyo Nagaremono" ("Tokyo Drifter") and Hasebe Yasuharu's excellent "Minagoroshi no Kenju" ("Pistol of Death")--would be lessened without his sterling participation.
In 1971, along with many other stars, Nitani left Nikkatsu and began focusing on TV appearances. In the meantime, Nitani established "Rec Kyoto", a language and performing arts school where he himself taught English conversation classes.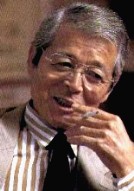 Throughout the 1970s and 1980s, Nitani achieved further success in show business when the TV cop series "Tokuso Saizensen" ("Special Investigation Unit"), became a huge hit.
In December 1978, Nitani almost lost his life when he broke his tibia in a skiing accident in Hokkaido. After being hospitalized for 4 months, Nitani recovered completely from his injuries and resumed his career as vigorously as always.
In recent years, amid rare public appearances and his daughter's divorce from a pop singer, there were media speculations on trouble in his marriage. Nothing was further from the truth. Instead, Nitani, a warm-hearted family man, has been dedicating his life working for charitable causes with his wife Shirakawa Yumi's strong support.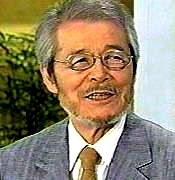 Looking back at Nitani's extensive, impressive, and dynamic, celluloid legacy, we see an intense actor, assured of a properly lofty position in the upper echelon of action cinema greatness. Looking at Nitani, now, we see a gracious, admirable intellectual, best described by the term Shibui (quietly refined with age). Truly, a great soul.
Profile by Tatsuya Fukushima for Yaju no Yabai Gumi.2001.
Additional material by Chris Casey.
---