S H I S H I D O J O
---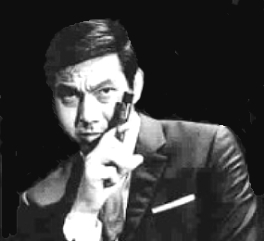 Name: Shishido Jo
Born: December 6, 1933
Birthplace: Osaka, Japan
Key Nikkatsu films: "Hitori Tabi" (1962),
"Yaju no Seishun" (1963), "Nikutai no Mon" (1964),
"Minagoroshi no Kenju" (1967),
"Koroshi no Rakuin" (1967).




Ace Nikkatsu Action star, Shishido Jo is one of the most distinctive personalities in all of Japanese cinema. His singular looks, uniquely intense style of acting, and his uncanny ability (seeming almost a need) to surprise the audience have made him a top star in Japan for nearly half a century. Jo's life and career have proven to be one of the most consistently interesting in the history of filmed entertainment.
After graduating from high school in 1952, Shishido entered the Department of Art at Nihon University with the intention of majoring in Theater. Two years into his studies, however, he decided to answer Nikkatsu's first national call for new talent.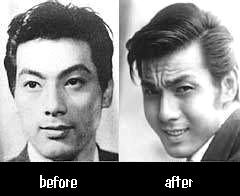 His good looks, keen mind, and considerable acting talent resulted in his being selected as a charter member of Nikkatsu's first group of "star recruits" . Jo immediately withdrew from college and entered the "school" of Nikkatsu.
Jo made his screen debut in the 1955 release "Keisatsu-ki" ("Police Report"). Initially, he played the role of a handsome lover. However, at that time in Japan, cinematic Don Juan's were a dime-a-dozen and Shishido wasn't making much of an impact. Jo decided something major, perhaps even drastic, needed to be done. So, in keeping with his "do the unexpected" personal mission statement, he elected to undergo extreme plastic surgery to enhance his cheekbones in order to emerge as an impudent tough guy. This bold decision paid off when he won a major role in the 1958 film, "Moeru Nikutai" ("Burning Flesh"), which was released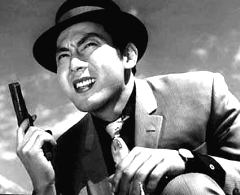 simultaneously with Ishihara Yujiro's classic "Arashi o Yobu Otoko" ("A Roaring Drummer"). From that point on, Jo's career skyrocketed!
At the height of the Hard-boiled, Nikkatsu Action boom of the late 50's and early 60's, there were very few films made by the studio in which Shishido Jo didn't appear as a pistol wielding tough guy! During this exciting period, Jo frequently co-starred, to great effect, with the powerful Akagi Keiichiro. One such Akagi/Shishido pairing, 1960's "Kenju Buraicho: Nukiuchi no Ryu" ("Gunslinger's Tale: Ryu the Fast Draw") led to an enjoyable and successful series of gunmen flicks. In these "Kenju" films, Shishido (and to some degree Akagi, as well) comes off as a super-suave, ultra-cool assasin, making one immediately think of the early James Bond films; yet, these Nikkatsu films predate United Artists' Bond pictures by a good two years!
Jo was also oftened paired with "Mr. Dynamite", Kobayashi Akira, with spectacular results. Among these couplings were the immensely popular Wataridori films in which Akira played a guitar-playing wanderer who always managed to end up in violent confrontations with gunman Jo. Some of these films were referred to as "Japanese Westerns" or, more accurately, mukokuseki ("no nationality" Westerns) with the characters frequently appearing in gunfighting "cowboy" gear--Stetson's and all!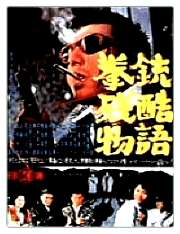 It was during the production of the "Kenju" and "Wataridori" films that Jo began to work diligently to create a sense of what he called "unrealistic realism" within the action sequences. For example, he practiced constantly until he could really draw a gun in less than a second! This feat (of which he remains immensely proud) earned him the nickname of "Ace no Jo".
Jo's powerful screen presence , and his increasing popularity among action eiga fans of the early 60's, led Nikkatsu to begin creating tailor-made, star vehicles for him. True to their hyper-factory form, the projects were cranked out at an alarming speed. But, fearing that these films might become too formulaic, Jo constantly (and consciously) attempted to inject as much ferocious intensity, humor, and often outright weirdness, as possible into the sometimes "cookie-cutter" scripts written for him. Not surprisingly, he worked well with the maverick Nikkatsu director, Suzuki Seijun, with whom he shared the desire to uniquely entertain the audience. In fact, arguably, the best Suzuki films star Shishido Jo and likewise some of the best Jo films are Suzuki's.
Jo's constant need to stretch out and try different things led him to portray nearly every cinematic role imaginable, from gangsters and detectives, to buffoonish clowns and pirates, from world weary wanderers to (believe it!) Mexican bandits. Beyond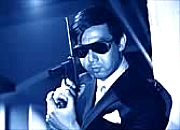 his adventures in film, Jo also found time to persue a singing career, indulge in artistic endeavors, and even raise a family.
When Nikkatsu seemed on the verge of collapse in 1968, he began to appear in films by other companies (most notably Toei). By the early 70's, when Nikkatsu had gone predominately "Pink", Jo ducked out on them altogether.
Since the 1970s, Shishido has remained a popular figure in prime time TV shows mainly as a comedian. Especially, he was a popular host on the TV restaurant guide show "Kuishimbo Banzai" ("Hooray the Gourmets"), one of the longest running TV series in Japan. In the 1980's he won a national "Best Father" award (his son, Kai, is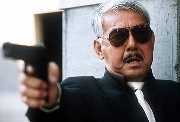 now a popular actor, too). He has written cook books and recently his own memoirs, and he has continued making films, having just released his 237th picture in February 2001. There seems to be no stopping the powerhouse that is Ace no Jo!
But, even if he hadn't continued to be highly active and visible, his original style of acting and unique contributions to a vast number of classic, hard-boiled, Nikkatsu Action films like "Colt wa Ore no Passport" ("Colt is my Passport"), "Koroshi no Rakuin" ("Branded to Kill"), "Yaju no Seishun" ("Youth of the Beast"), and "Mina-goroshi no Kenju" ("Pistol of Death"), would have served to render him unforgettable. Shishido Jo, master of the unexpected, and one of Nikkatsu's coolest of the cool.
SHISHIDO JO wa #1 da!!
Profile by Chris Casey and Tatsuya Fukushima for Yaju no Yabai Gumi.2001.
For more information on Shishido Jo,
please visit:


---