W A T A R I T E T S U Y A
---
Name: Watari Tetsuya
Born: December 28, 1941
Birthplace: Hyogo, Japan
Key Nikkatsu Films: Seishun no Sabaki (1964), Tokyo Nagaremono (1966), Kurenai no Nagareboshi (1967), Burai Yori Dai Kanbu (1968).
Watari Tetsuya came into the Nikkatsu Action game late; but, he came in heavy and went out a winner! He was one of the most popular Nikkatsu Action Superstars in the years just prior to the studio shifting its production focus to "Pink" films. But, it is a wonder that he became a star at all. He never seriously considered an acting career for himself; but, Fate, Destiny, and Chance had other ideas.
In 1960, Watari entered Aoyama Gakuin University where he became a member of the Karate Club. During his senior year at the University, Nikkatsu began an official search for a "New Face" to star opposite their stunning starlet, Asaoka Ruriko, in her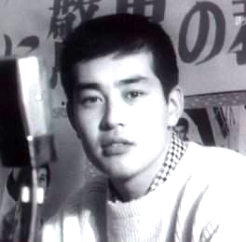 100th film. Applications were streaming in from all over Japan. Watari, himself, had no interest in gaining an acting audition; however, his Karate Club pals (and his younger brother, actor Watase Tsunehiko) felt Tetsuya would make an ideal movie star. So, unknown to him, they sent an audition application to Nikkatsu in his name. However, it seems that the stream of applications had developed into a flood and Watari's petition was washed away. Yet, it was his destiny to become a Nikkatsu Aciton Man; because, shortly thereafter , a Nikkatsu talent scout spotted him, by chance, in the studio's dining hall and hired him instantly as an actor!
Nearly a year later, in 1964, Watari Tetsuya made his screen debut in Kosugi Isao's "Abare Kishido", and beginning with his second feature, "Seishun no Sabaki", he became a bona fide Nikkatsu Action leading man! The studio was positive they had found the right guy to become their "new Ishihara Yujiro". Even the King, Ishihara himself, agreed and happily became a sort of unofficial coach to "the New Kid".
In the seven years following, Watari appeared in approximately seventy films. He played a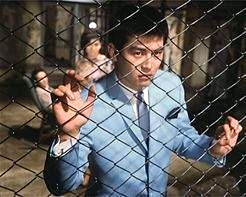 variety of roles; however, those of the tough-yet-soulful, angst-ridden youth (an extension of the characters played in earlier Nikkatsu films by Akagi Keiichiro and Ishihara Yujiro) were his specialty. He frequently appeared as a young, yakuza soldier torn by the classic conflict of Giri (duty or obligation, roughly) and Ninjo (personal feelings). One of the best examples of this character type is the drifter,Tetsu, he portrays in Suzuki Seijun's brilliant, pop-art, gangster romp, "Tokyo Nagaremono" ("Tokyo Drifter"). Tetsu might have had a hurricane of inner turmoil and a torrent of dangerous situations to deal with; but, as played by Watari, he never let 'em see him sweat! He handled it all smoothly, never wrinkling his hi-cara, powder-blue suit or scuffing his stylish, white, buckskin shoes; yet, his eyes betrayed the beast of rage hidden beneath his detatched, hipster veneer. He was the swingingest "Giri to Ninjo" gangster cat to ever hit the screen! Though this film was, at the time, panned heavily by the critics it was popular enough with the audiences to warrant a sequel (not directed by Suzuki Seijun).
Perhaps, Watari's most popular, and effective, portrayal of the Giri vs. Ninjo anti-hero was that of Hitokiri Goro (Killer Goro) in Masuda Toshio's extremely successful film "Burai Yori Daikanbu" ("Villainy of the Gang"). This great film led to five direct sequels and two spin-offs all of which starred Watari Tetsuya.
In the early 1970's, Watari--like most of Nikkatsu's action stars--decided to leave the "Roman Porn" possessed studio and joined the production company of his mentor, Ishihara Yujiro. Throughout the 70's the dynamic duo of Ishihara and Watari thrilled TV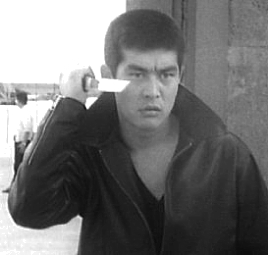 audiences with their tough cop/action series such as "Dai Tokai" ("The Big City") and "Seibu Keisatsu" ("Western Cops").

However, Watari's successes in this period were not exclusively television oriented. He appeared in many powerful and popular films, such as Fukasaku Kinji's 1975 downbeat classic , "Jingi no Hakaba" ("Graveyard of Honor"). In their excellent "Japanese Cinema: Essential Handbook", Thomas and Yuko Mihara Weisser refer to this intense yakuza film as "..the most offensive, the most blatantly savage mainstream movie in Japanese cinematic history". Watari Tetsuya's solid, and exceptionally vicious, performance was paramount to making this a pummeling, body blow of a motion picture.

Upon the tragic death of Ishihara Yujiro in 1987, Watari became the President of Ishihara Productions. In the early stages of Watari's career he was touted as the heir apparent to Ishihara's Nikkatsu Action crown. It seems fitting that he would, in life, become Ishihara's true successor. It is curious to note that both men were born on December 28.

Watari Tetsuya is still quite active today, appearing with some regularity on television and making one or two films per year. Recently he appeared, to great effect, in Takeshi Kitano's acclaimed gangster opus, " Brother". Thanks to Destiny, Fate, and Chance it seems Watari will continue to win at the game for many more years---which, in the end, makes his fans the real winners.





Profile by Chris Casey for Yaju no Yabai Gumi.2001.




---